Replacement Window & Door Installation
Upgrade your home with beautiful, energy-efficient windows and doors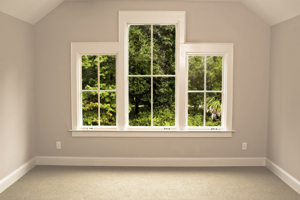 New windows come in all kinds of shapes, colors, and sizes, making them perfect for any home.
You need windows and doors that are safe, durable, energy efficient and look good too. Replacing your windows and exterior doors can mean less maintenance, greater year-round comfort, improved curb appeal, and lower heating and cooling costs.
Whether you need to install a single new window or door or you need every window or door in your home replaced, Tailored Exteriors can get the job done right. We replace and installs top-quality windows and entry doors from leading brands in a variety of styles and materials.
To get an estimate on your window or door replacement project, contact us today to schedule your on-site consultation with one of our specialists.
Reasons for door and window replacement
Windows or doors are faded, worn or look outdated
Windows or doors are bowed, sagging or bent; allowing air infiltration
Windows or doors stick or are difficult to open and close
Windows or doors leak during rainfall
Windows accumulate condensation between panes
Frequently asked questions about window and door replacement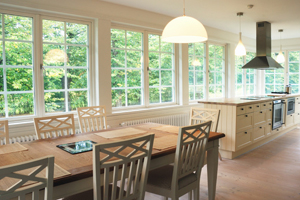 The windows installed in this kitchen promote energy efficiency for the whole room.
How often should my windows and doors be replaced?
If your windows are more than 20 years old, you should have them inspected to determine if replacement is needed. If your window frames are cracking, you feel drafts, or the glass fogs up, it might be time to replace your windows.
Can replacement windows and doors lower my heating and air conditioning costs?
New windows and doors typically feature thicker, insulated glass and better materials, making them more energy efficient than single-pane glass windows and old, drafty doors. There are several glass options to choose from, including low-E, dual-pane, triple-pane, and more.
According to the U.S. Department of Energy, heat loss from inefficient windows can increase your home's heating bill by as much as 25 percent. The windows and doors we install are Energy Star qualified for energy savings and can help lower your utility bills.
Contact us for an estimate on new windows and doors
Whether you're looking to lower your heating and cooling bills, enhance your home's curb appeal or both, you can count on the expert window and door installers at Tailored Exteriors to get the job done right. Our window and door replacements and installations have earned us high customer reviews and ratings. Contact us today to schedule your consultation and estimate with us!